Reduce Cost Without Sacrificing Overhead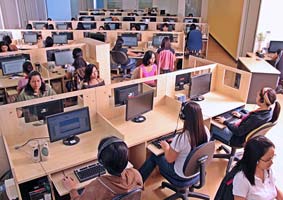 IDSI provides accurate, cost-effective medical transcription services to hospitals, clinics and other medical facilities all over the world. Our medical transcription team is composed of dynamic and professional individuals backed by years of solid experience. We guarantee at least 98% accuracy on every job.
We always do a free test run before giving a quote on any job. The test sample must be representative of the actual job's statistical profile in terms of difficulty and medical area. Based this test and any other requirements you have, we will determine the fairest possible offer.
Benefits Of Using IDSI
---
Save Money

Using IDSI for your Medical Transcription needs can save up to 50% over hiring in-house MT.

Guaranteed Accuracy

IDSI guarantees 98% accuracy on all our medical transcription jobs.

Quick Turn-Around Time

Our normal turnaround time is 24 hours or less for regularly assigned volume, meeting pre-agreed transmission cut-off schedules.

Eliminate Overhead

By eliminating tasks and expenses like hiring, overtime pay, holiday pay, weekend coverage, and management hassles, you have more time and resources to focus on growing your business.

Comply With Data Security Regulations

At IDSI, we understand the importance of keeping your data secure. That is why all data is held securely and strictly follows HIPAA standards. All voice files are encrypted and downloaded offsite from secured FTP locations. Any information you share with us that could compromise your business operation in any way is held in the strictest confidence by only authorized persons and precluded with a Non-Disclosure Agreement.

Stay Up-To-Date

The company conducts regular conference calls during initial studies of prospective clients' requirements. Once the jobs are already in production status, the normal channel of communication with clients is through daily emails and real-time messaging system for resolving any operational issues and concerns. The company also hosts client visit onsite for the clients to see for themselves actual operation.
---
Types of Medical Reports
We can generate the following medical reports based on your desired output:
Disability Reports

Operative/ Surgical Reports

Emergency Room Reports

Clinic Notes

Outpatient Notes

Outpatient Notes

Admission/Discharge Reports

History and Physical

Consultation Notes

Letter/Memos